Have you noticed my new look?? That's right I got bangs! On a whim I picked up a pair of scissors and went for it. I think they turned out pretty good. Thankfully, I had my hair appointment scheduled for a couple days later so she could make them look even better. Change is good.
It was with that make-over mania was born! I decided it was time to really dive into my blog, and in order to do so I felt like it needed a complete face-lift.
(Enter stage left) Jumping Jax Designs: Becca is a work-at-home-mom to sweet baby boy, Jax, wife to amazing husband, Travis, and the founder of Jumping Jax Designs. She also has a family blog where you can read more about her day-to-day adventures.
Becca created Jumping Jax Designs after years of friends and family encouraging her to do something that she loved and that allows her to express her artistic abilities and show off her creative side.
She designed both Kellan's first b-day invitations, baptism invitations, as well as did a basic re-do of my other blog Simple Gift ~ Stories from Breastfeeding Mamas. And every time she has put up with my OCD, my crazy ideas, and really listened to what I wanted out of the designs. This blog was no exception! After very literally 100 emails, (okay, so they weren't all about business!) and several late nights on her part, Becca created the perfect layout and design for my Family blog. I am absolutely in love with everything she did. Honestly, it was like she went inside the mess in my brain, saw my ideas and made them 100xs better!
I still have work to do to finish the blog design, but the basic concept is there. So please take a look around, read some older entries. If you would like, I would love for you to grab my button, and share it with your readers. Welcome to new and improved Family and Life in Las Vegas – Our Way!!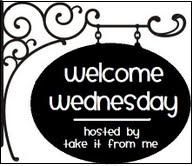 A big HELLO to all those visiting from Welcome Wednesdays! I love making new friends, and finding new blogs to read! Hope you enjoy your visit!