Kellan has been asking for Bob all day. (The Hubs name is Rob, but instead of Dada, Kellan took to calling him Bob… too cute if you ask me!) While it is super cute, it also makes my heart hurt. I love my husband's job, I just wish I could have my husband here with us all the time. Some days are harder than others. Today is one of those days! We love you Bob! We are always thinking of you and you are always in our hearts.
I realize I have posted a ton lately, but when I stumbled into a photo challenge by Two Moms Made a Photo Challende, and when I saw the topic I knew I had to enter.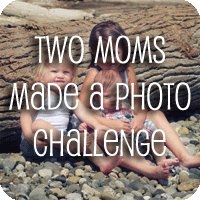 I am not a good photographer by any means, but I do love taking pictures. I love this picture. It is right up there in my top 3 pictures of all time! This is the Hubs saying goodbye to Kellan the night before he left. I am surprised I was able to take the picture at all.
To the Hubs: MMAFI&B