Mommy needs a timeout.  I posted 3 blog entries for Monday!  That is just crazy!  Tomorrow (well I guess it is today) I am going to focus on my to-do list.  If I don't accomplish at least 3 things on it, I will not be allowed to return on Wednesday.  And I have to return on Wednesday because I am planning on posting my first ever giveaway!
Today Squish started clapping for the first time!  I couldn't be more proud every time my little Squish every time he does something new.  I finally get why Moms always feel the need to brag about their children.  BSq (Before Squish), I would smile and nod.  ASq(After Squish) I get excited over every little thing, and want to tell anyone who will listen.
Feel the same way?  Check out my Messy Messy Squish, clapping for the camera so we could send it to Daddy for him to see too!
In addition to working on my to-do list, Squish and I are hoping to make it to story time at the Library.  It is supposed to be rainy tomorrow here, (yes, it does rain in Las Vegas), but sunny or not, reading books is always a great way to spend the day!
Okay, so I just came across the cutest blog.  I was really intrigued by the creativity of her weekly Mommy Memo One Liners!
Basically you write a post with your own Mommyhood memo one-liner beginning with: "You know your life has changed when…"
So forgive me if this is awful, but it is my first try…
"You know your life has changed when spending time in the backseat of a car is for nursing and not necking!"
(Not that I have ever made out in the back seat of a car…)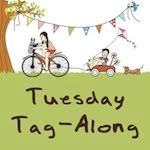 Welcome to all the Tuesday Hoppers!  I can't believe how many awesome blogs there are out there!  I had been living under a blog rock when I was still private!  I am happy to be meeting so many other fellow bloggers!  Happy Tuesday to all!
Oh, and if you get a chance, stop by my other
blog
. It is a place for breastfeeding mamas to share their stories!  I am FINALLY posting a story of my own today!