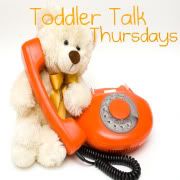 Welcome to the third week of Toddler Talk Thursday! Family and Life in Las Vegas got together with Lolo from Crazy about My Baybah, and we decided to create Toddler Talk Thursday as a place for moms and dads of toddlers to come together over a weekly topic and share ideas, go-to toys or products. Not to mention it is a great way meet other bloggers of toddlers. Topics will range from Dinner, Dos and Disasters, Books, and Bedtime. We encourage you to join in, share what works for you, as well as your toddler's likes and dislikes.

This week's topic is: Toddler's Favorite Food(s)

Squishy is hit or miss on food. Some days he loves food and eats everything, other days he would much prefer to feed the dust bunnies on the floor. We are always trying to integrate new foods into his meal time. I love talking with other toddler parents about what their little one is eating, because I almost always get a new idea.

Some of Squishapillar's favorites now include:
Peanut Butter and Banana Sandwiches
Tofu, sautéed in olive oil and seasoning
Any steamed veggie sprinkled with parmesan cheese
Cheese – all kinds, anytime of night or day
Avocado, black bean, and cheese quesadilla
Beans with a dash of garlic
Ravioli with laughing cow cheese sauce (made by adding hot pasta water to LC cheese)
Pasta with anything on or in it

What is you Toddler's Favorite Food?