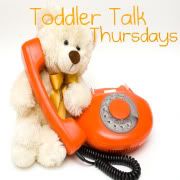 Welcome to the seventh week of
Toddler Talk Thursday!
Where
Family and Life in Las Vegas
,
Crazy about my Baybah
, and
My Life as a Sippy Cup Mom
talk all things Toddler!
Toddler Talk Thursday was created as a place for moms and dads of toddlers to come together over a weekly topic and share ideas, go-to toys, or products. It is a great way to meet other bloggers of toddlers. Each week the topic will be different; we invite you to link up, share your weekly Toddler Talk!!
Link Up Requirements *NEW*
You must write a post that corresponds with the topic of the week. The goal of this meme is to share thoughts, ideas, and commiserate if need be with fellow Toddler Parents/Family/Caregivers. We love to have as many people participate, but if you are not linking up with a Toddler Talk Post, you may be deleted. 🙁
In order to make this easier for everyone, we will leave the link up open all week. While it will still be called Toddler Talk Thursday, if you want to participate, but don't have time to post until later in the week, we will leave the linkup open for you. All posts must be in by Monday of the following week, so we can choose our highlighted blogs.

Each week the hosts will travel around to each blog that links up, and pick an idea, story, or picture they think was a great example of that weeks topic. In order to qualify for this you need to blog about this week's topic, and follow the hosts. Comments letting us know you are participating are always great too. If we choose your blog, we will link back to your post the following week.
Our highlighted blogs this week are:
Milk N Honey, we love Shrade playing the piano, and bouncing up and down dancing! We also love that Milk N' Honey share a great list of music for toddlers!!
The Nardiello Family, just because we love that Phineas and Ferb song! 😉
Many Sleepless Nights, how could you not love when a 3 year-old brother sings his baby sister back to sleep with Jingle Bells! Too sweet!
This week's topic is traveling with a Toddler. Currently I am on vacation. I flew all alone with my Squishy man, and our trip included a layover (and a rain delay). So I thought since I had just lived it, I would share the Top Tips I feel would be helpful for others.
Family and Life in Las Vegas ~Top Tips for Toddler Travel
1. Pack efficiently.
Take the time to make a list of everything you think you will need. Wait a day, read it over and re-do your list. You will take things off your list, and add others. When you start packing, Space Bags are a great way to make the most use of your very small space. Most airlines charge for bags now, so you want to get the most out of your bags. Label what you can, it will help you stay organized, and will lead to a faster pack up at the end of your trip
2. New Toys make for a happy Toddler.
Anytime we travel, I always try to buy a few small new toys ($2-$6). I have found that my Squish takes more time playing with toys he is unfamiliar with. If buying isn't in the budget, just pull out some toys that have not gotten any play in a while.
3. Snacks are you friend.
While you can't pack a few Diet Cokes for yourself, you can bring food through security. And young children can bring milk through.

(Just make sure you tell them you have milk for your child, no TSA agent has ever given me a hard time about this although they do have to check it, so allow for extra time.)

If you have a long travel day ahead of you, make sure you pack a variety of things your toddler likes. It will save you money, and ensure your child is eating something healthy and filling. I try to pack a sandwich and snacks for myself too.
4.
Don't count on help from others.
If you are traveling without anyone helping you, make sure you can handle your toddler, and all your bags without anyone's assistance. This last trip I made the mistake of not thinking this all through. Since I was traveling on my own with a now walking toddler who doesn't like to sit still, I planned ahead and got a good enough price on tickets that I was able to buy a seat for my son too. Since I knew I would have a ton to carry, and his car seat, I thought ahead enough in advance that I purchased a Go Go Babyz Travelmate to help free my hands and make thing efficient through our travels, and layover. We are planning on traveling for the holidays too, and this seemed like a great investment.

(I actually really liked this product a lot, and am happy with my purchase.**)

What I forgot to think about was how I was going to carry the car seat

(with my Squishy inside)

, my carry-on bag, and my diaper bag down that narrow aisle to my seat. Not one person who saw me struggling offered to help. I am sure they were all praying we wouldn't sit next to them… The reality is while it would have been polite to offer a hand; it was not their responsibility it was mine. Had I thought things through further I would have packed a backpack instead of a wheeled suitcase as a carry-on, which would have left my hands free to carry the car-seat and toddler on board.
5. Just Breathe

Traveling is going to be stressful no matter how prepared you are, or how sweet of a child you have. Packing, getting to the airport on time, crowds, people who could care less to even notice you are struggling, long lines at security, the inevitable tired cranky child, and the change of air pressure, are all things that will not only stress you out, but also your child. Security can be long, but goes much easier if you aren't rushing. Don't worry about what the person next to you, behind you, or in front of you is thinking of your crying tired baby. Focus on your child and yourself. These people paid the same amount to be in this plane, but also should know that a crying baby is a standard on any flight.

(And seriously any seasoned traveler will pack headphones to block it all out.)

A stressed out parent only stresses your child further. Try your best to remember that this day will not last forever, and in the end you will be at your final destination and it will all be a distant memory.

** – I purchased the Go Go Travelmate with my own money, and was not compensated in anyway for sharing my opinion.
Next weeks topic will be:
Toddler Art
Link Up Suggestions
1. We ask that you follow all three hosts. That way you can keep up to date on future Toddler Talks.
2. Please link up with the URL of your Toddler Talk post, so we are looking through other posts to find it.
3. Please grab the Toddler Talk Button and display it in your post or on your blog.
4. Stop in to other blogs that are linking up. Leave a meaningful comment if you visit, and follow if you would like.
5. This link up is for families that have toddlers. Raising a toddler can be fun, crazy, exciting, and exhausting. Sharing what works for you could give other families another way to do things.
6. Have Fun!