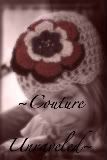 I first met Victoria through a blog giveaway. I won a Gift Certificate to her shop. I was soooo excited. Her Etsy shop was filled with so many cute things. I ordered matching hats for Squish and me, (because I'm cool like that) and a crocheted flower clip. I figured I could attach it to some of my headbands for a cute headband, or pin it on to an outfit or scarf. I love it all. I can't wait for it to get cool enough here for me and Squishy to wear our hats!! I loved the flower so much I asked Victoria if she could make some Halloween themed ones, and she agreed!
I also asked Victoria to share a little a bit about herself and her company. What she shared made me like her even more.
"I learned to crochet about 11 years ago from my very patient Sister in Law!! I wanted to learn because I was pregnant with my 1st child and wanted to make a baby blanket… well… unfortunately after trying for over a year…we lost that baby…then very shortly after I got pregnant again…so I started making the blanket again…and again…we lost that baby! So I pretty much put crocheting up…and I will have you know that 1 year later we got pregnant again then again and again and again and again!!! LOL! 5 kids no problems!! and 6 is on it's way!!! It is a happy ending!) anyway…a little under a year ago…a friend of mine had put a picture of her baby girl wearing a crochet hat on Facebook…I thought it was adorable!! I ended up mentioning to her that I could TOTALLY make a hat like that…she had me make her one just like it in a different color…so I named the hat after her baby girl…the "Avoni" hat. Then she wanted a hat for her little boy so I named that hat ofter her boy, the"Aerro" hat…then came flowers and so on!! I got ALOT of people who thought the stuff I was making was really cute and they convinced me to start an Etsy..so I did! Crocheting has now become a BIG part of my life and I am ALWAYS trying to find new things to crochet! Through all the web searching I also came across blog world…so I started a blog to "showcase" my Etsy stuff and in the meantime I found that I enjoy doing crafts too…and whenever I can…I will put those on my Blog too…I feel the blog let's everyone know a little about me too! It's like a "behind the scenes" look!!! LOL!!!"
Victoria has made two beautiful crocheted flowers for Mommy's Lil Monster Bash.

Couture Unraveled Blog
Couture Unraveled Etsy
Couture Unraveled Facebook

To Enter just fill out the Google Docs form, there is no need to fill out the form on both site, it will automatically do that for you. But do remember to check out both sites for extra entries!
Mandatory: Name, Email, and your favorite design from Couture Unraveled.
Extra: Heart Couture Unraveled's Etsy Shop
Like Couture Unraveled on Facebook
Follow Couture Unraveled's Blog via GFC
Extra Entries from Family and Life in Las Vegas: (These will be manually added to the Google Form)
Vote for Family and Life in Las Vegas on Top Mommy Blogs and Picket Fences. (2 entries for each vote) (can be done daily)
Subscribe to Family and Life in Las Vegas via email(Upper Right-hand Corner) (3 entries)
Tweet/Facebook this Giveaway and leave a comment with the link. (2 entries)
"I want to #win a Couture Unraveled Original #giveaway during @FamilyNLife & @Sippycupmom Monster Bash!http://tinyurl.com/2g73ool ends 10/9 "
Good luck! This giveaway will end on October 9th!
The winner will be announced October 10th!
Be sure to head over to
The Life of A Sippy Cup Mom for even MORE entries!
Remember you only have to fill Google Docs out ONCE between our 2 blogs!