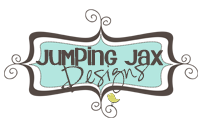 With Halloween right around the corner do you know what happens after Halloween other than the Holiday 10? (You know the 10 lbs you gain from munching on all those yummy goodies to keep you warm in the winter…) The end of October is the official beginning to the Holiday Season. And what better way to start the Season than having your Holiday Cards already taken care of?? Becca and Jumping Jax Designs can do that for you!

Both Family and Life in Las Vegas and The Life of a Sippy Cup Mom are huge fans of Jumping Jax Designs, and it owner/creator Becca Paro. She is the creative mastermind behind not only both of our blog designs, but also out Mommy's Lil' Monster Bash Button. She has also done invitations and business cards for one or both of us and I know both of us will be using her for many many other special events in the future. (Like the Holidays for sure!!)
The thing we love most about Becca and her company is her customer service and her attention to detail. She cares about the little things that most companies these days breeze over. She understands you are coming to her with your ideas, and knows often times the product she is creating for you is extremely special. Whether it is your outlet for writing (blog design), or a special time in your family's life (New Baby, Holidays, Birthdays etc.) she will give you the attention to detail and the service that the event deserves.
Becca has generously offered one lucky winner a Holiday Card e-file. Check out some of her designs!!


Jumping Jax Designs Etsy
Jumping Jax Designs Blog
Jumping Jax Designs Facebook
To Enter just fill out the Google Docs form, there is no need to fill out the form on both site, it will automatically do that for you. But do remember to check out both sites for extra entries!

Mandatory: Name, Email, and which Holiday Card you would pick.
Extra: Heart Jumping Jax Designs on Etsy
Like Jumping Jax Designs on Facebook
Extra Entries from Family and Life in Las Vegas: (These will be manually added to the Google Form)
Vote for Family and Life in Las Vegas on Top Mommy Blogs and Picket Fences. (2 entries for each vote) (can be done daily)
Subscribe to Family and Life in Las Vegas via email(Upper Right-hand Corner) (3 entries)
Tweet/Facebook this Giveaway and leave a comment with the link. (2 entries)
"I want to #win a Holiday Card #giveaway during @FamilyNLife & @Sippycupmom Monster Bash! http://tinyurl.com/24ebhf2"
Good luck! This giveaway will end on October 9th!
The winner will be announced October 10th!
Be sure to head over to
The Life of A Sippy Cup Mom for even MORE entries!
Remember you only have to fill Google Docs out ONCE between our 2 blogs!