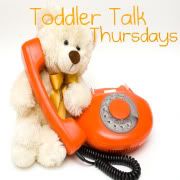 Toddler Talk Thursday was created as a place for moms and dads of toddlers to come together over a weekly topic and share ideas, go-to toys, or products. It is a great way to meet other bloggers of toddlers. Each week the topic will be different; we invite you to link up, share your weekly Toddler Talk!!
Each week the hosts will travel around to each blog that links up, and pick an idea, story, or picture they think was a great example of that weeks topic. In order to qualify for this you need to blog about this week's topic, and follow the hosts. Comments letting us know you are participating are always great too. If we choose your blog, we will link back to your post the following week.

Our highlighted blog this week is:
This week's topic is :

What's in your bag?
So what is in my diaper bag?? First let me tell you – I am not always this organized. You can often find empty wrappers, receipts, and other stuff that should be in the trash in my bag as well.

Also since I just switched over to my new Go Gaga Bag, I don't have any of my lip glosses in here either. (psst! Stay tuned for a Go Gaga review and giveaway coming soon!!)
I also always carry a re-usable water bottle for myself, but since I wasn't heading out when I took these, it was not in my diaper bag.
(Please note I am linking up a few products not because the company asked me too, or provided me with the product. All products in my diaper bag were purchased by me. I just really really really like these products and want to share!)

In my diaper bag you will find:
1. Prefold cloth diapers – anywhere from 2-6 depending on the time we are spending out.
2. Itzy Ritzy Wet Happened Wet Bag and a extra diaper cover
3. Table Toppers for eating out.
4. Bib (which 9/10 I forget) and a change of clothes
5. Clover Oil and Humphrey's Teething Remedies
6. Tylenol (Dye Free)
7. Think Baby Sunscreen – I love this stuff!! Squishy actually got into it one day, and ate a whole big blob. I called poison control and they actually commended me for choosing such a non-toxic sunscreen. It is expensive, but really thick. A little goes A LONG way!!
8. Boogie Wipes
9. Sippy Cup and Strap to keep from being thrown .
10. Jackson Reese Wipes These wipes are awesome! I was lucky enough to start using them before they were actually available in the States. I also use these to wipe my face when I need to. Really Refreshing!
11. Itzy Ritzy Snack Happened bag – Great for keeping Mommy's personal items.
12. Revolution Foods Fruit Pouches – great snack on the go!
13. Reusable Shopping Bag
14. My day planner (I just got this – and am desperately trying to keep organized)
15. Toys
16. Tea!
17. My wallet
18. My business cards
19. A pen
20. Hand sanitizer
21. Pacifier – he usually doesn't get this when we are out, but it is nice to have if we end up staying to long, or if a meltdown happens.
22. (Not pictured above) Nourish Water.
What is in your Diaper Bag??
Link Up Suggestions:
1. We ask that you follow all three hosts.
That way you can keep up to date on future Toddler Talks.
2. Please grab the Toddler Talk Button and display it in your post or on your blog.
3. Stop in to other blogs that are linking up.
Leave a meaningful comment if you visit, and follow if you would like.
This link up is for families that have toddlers.
Raising a toddler can be fun, crazy, exciting, and exhausting.
Sharing what works for you could give other families another way to do things.
Have Fun!

Next weeks topic will be: 4 favorite photos!

Please – Before you Link up – This is NOT A BLOG HOP!! IT IS A MEME FOR PARENTS AND CAREGIVERS OF TODDLERS.
If you aren't going to post specific to this weeks topic, then don't link up.