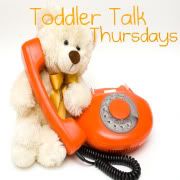 Welcome to the second week of
Toddler Talk Thursday!
Family and Life in Las Vegas got together with Lolo from
Crazy about My Baybah, and we decided to create Toddler Talk Thursday as a place for moms and dads of toddlers to come together over a weekly topic and share ideas, go-to toys or products. Not to mention it is a great way meet other bloggers of toddlers. Topics will range from Dinner Dos and Disasters, Books, and Bedtime. I encourage you to join in, share what works for you, as well as your toddler's likes and dislikes.
This week's topic is
Toddler Fun Outside the Home: Fun and Educational Activities
.
Living in
Las Vegas
has it pros and cons.
Sure we don't have the "shut the town down" blizzards that we had growing up in the
Midwest
, but we do have so seriously hot temperatures in the summer time.
So what do you do when your Toddler is begging to get out of the house?
LET ME OUT!!
Some of our favorite Outside the Home activities are going to the library.

Usually we go and try to make the story time.

If you haven't done this yet, I highly suggest you try one in your area.

Squish has so much fun.

He loves the songs, and books.

And best of all it is FREE!
Another thing we do is Baby Gym.

There are ones you can pay for, and they are also ones that are offered FREE up to a certain age.

We go to a FREE on that is offered on Tuesday's and Friday's.

I am kind of sad we only have 4 more months of free play.

Squishy is a little Fish.

He loves to be in the water.

Here in Las Vegas they have water playgrounds, or Splash Pads.

They didn't have these where I grew up, but we also lived a few blocks away from a beach.

Playing in the water is lots of fun for little one's.

We are also about to sign up for a swimming class.

I can't wait! Of course you can always make water fun even in your own backyard too!
Another fun thing to do with your Toddler is a kindermusik class.

While these can be a bit pricey, they are also lots of fun, and engage your Toddler in lots of different learning ways.

If this isn't something you think you can do, consider picking up one of these drum sets.

I can't even begin to tell you how much Squish loves it.

It is one of those toys that will grow with your Toddler too.
Finally, think about joining a playgroup.

We do a regular Thursday playgroup, and it has been a lot of fun.

Best of all Squishy and I both have made a lot of great friends going to our playgroup.

In fact I am heading out to Mama Bingo tonight with some of these great Moms!
What activities outside the home do you and your toddler enjoy doing most?
If you want to be a part of Toddler Talk Thursdays, just follow these simple steps:
1.
Follow the Toddler Talk Thursday Host.
2.
Link up your blog name and URL
with our Linky. (You only need to add your info once for it to be seen on all the blog hops)
3.
Grab our Toddler
Talk Thursdays and include it in a post about the event on your blog.
4.
Go to as many blogs on the Linky Tools as you want and Follow them. Be sure to
tell them you are from Toddler
Talk Thursdays
!
5.
It is common courtesy to
follow back any followers you have gained
from
Toddler
Talk Thursdays!