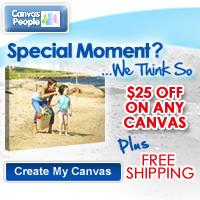 Do you remember recently when I posted a review about Kathy from Artsy Canvas Girl and her guest post was included? IF you missed that, please go back and read it before you look at the rest of this!
I was so excited when I got to my mailbox last week and saw that my very own personalize art canvas had arrived from Canvas People. The turnaround time was amazing. I can't believe how easy it was to order, and how fast it got to my home.
So… Do you want to see my new 11×14 original canvas art? It all started with my one picture.
This is my original unedited amateur picture.
And then Kathy turned it into this beautiful original piece of art.
And finally I got back my own beautiful Canvas Art!!
Here is a close up – I thought the sun shining through would allow you to tell it was an actually canvas – so please forgive the shadows.
I really love it. My only complaint is my own fault. Kathy had it edited for an 8 x 10 and Canvas People offered to let me review a 11 x 14. So the blue edging should have actually not started until the sides of the canvas. But I still think it is beautiful.
I am very impressed with the quality of the canvas. You can really make your art shine. Put your favorite family picture on one of these, and you have a one of a kind art piece at a super affordable price. Canvas People have a great deal going on right now too. $25 off plus Free Shipping. So it is even more affordable to get your own canvas. It really is a great way to display special memories, or photos you love.
Overall on the Squishy rating scale, we give Canvas People a Good Squishable!! I loved the customer service and the turn around time. Thanks so much to Kathy too for helping me create a one of a kind piece of art. Be sure to check Kathy's story on Etsy and Canvas People out for the Holidays! It makes a great gift!
Disclosure: I received a free 11 x 14 in copy of my art for review. All the opinions are mine and are 100% honest. I am also an affiliate for Canvas People.