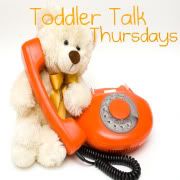 Welcome to the eleventh week of
Toddler Talk Thursday
! Where Family and Life in Las Vegas, Crazy about my Baybah, and My Life as a Sippy Cup Mom Talk all things Toddler!


Toddler Talk Thursday was created as a place for moms and dads of toddlers to co
me together over a weekly topic and share ideas, go-to toys, or products. It is a great way to meet other bloggers of toddlers. Each week the topic will be different; we invite you to link up, share your weekly Toddler Talk!!
Each week the hosts will travel around to each blog that links up, and pick an idea, story, or picture they think was a great example of that weeks top
ic. In order to qualify for this you need to blog about this week's topic, and follow the hosts. Comments letting us know you are participating are always great too. If we choose your blog, we will link back to your post the following week.


This week's topic is : Games

One of the things I love to do with Squishy is finger play. I learned some from Library Story time, and others I found online. Everyone knows the itsy Bitsy spider, but there is a whole world out there of finger play. The more I do them, the more Squish starts to participate.
Here are some of our favorites. I got them from this online site – Preschool Rainbow. Print them out – learn them by heart, and enjoy with your Toddler!




Ten Fingers

A fingerplay
I have ten fingers hold up both hands, fingers spread

And they all belong to me, point to self

I can make them do things-

Would you like to see?
I can shut them up tight make fists

I can open them wide open hands

I can put them together place palms together

I can make them all hide put hands behind back
I can make them jump high hands over head

I can make them jump low touch floor

I can fold them up quietly fold hands in lap

And hold them just so.
Five Fat Peas

A counting fingerplay especially

useful in the spring and summer.
Five fat peas in a pea pod pressed

children hold hand in a fist

One grew, two grew, so did all the rest.

put thumb and fingers up one by one

They grew and grew

raise hand in the air very slowly

And did not stop,

Until one day

The pod went POP!

children clap hands together
We also love to wrestle on the floor. I know – not the most educational game, but it sure is a lot of fun. When I play with him down on the floor, we focus on learning names for parts of the body, like "Are you walking on mama's legs?" or "Are you trying to stand on your head with your hands behind your back?" Lots of fun!!



We also love love love Peekaboo in our home. And my favorite is when Squishy hides behind something without covering his eyes, then moves it away – and wants you to say PEEKABOO! As if you didn't see him already! Silly Squishy!
What games do you like to play with your toddler?
1. We ask that you follow all three hosts.
That way you can keep up to date on future Toddler Talks.
2. Please grab the Toddler Talk Button and display it in your post or on your blog.
3. Stop in to other blogs that are linking up.
Leave a meaningful comment if you visit, and follow if you would like.
This link up is for families that have toddlers. Raising a toddler can be fun, crazy, exciting, and exhausting. Sharing what works for you could give other families another way to do things.

Next weeks topic will be: Clothes: What clothes do you love to put on your toddler?



Please – Before you Link up – This is NOT A BLOG HOP!! IT IS A MEME FOR PARENTS AND CAREGIVERS OF TODDLERS.
If you aren't going to post specific to this weeks topic, than don't link up.