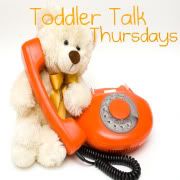 Toddler Talk Thursday was created as a place for moms and dads of toddlers to come together over a weekly topic and share ideas, go-to toys, or products. It is a great way to meet other bloggers of toddlers. Each week the topic will be different; we invite you to link up, share your weekly Toddler Talk!!
This week's topic is: Toddler's Favorite Toy(s)
Honestly, Squishy's favorite toy varies. I would say he has a solid top 4 right now:
B. Parum Pum Pum Drum
–
(you can find this at Amazon or Target)
(Excuse my melancholy son…
this was taken about 2 hours before he got the stomach flu.)
Chickita Shakers
–
(you can get these at
any guitar center for a couple bucks each)
Squish's top 2 are both percussion/music related. He loves to dance, shake, bounce, and bang. He has also be "singing" since he was a little itty bitty Squish.
Tunnel of Fun
–

(you can get this pretty much anywhere!! Even Walgreens has one!)
Silly Bee
– This bee is pretty small, and laughs when you squeeze it's butt! Squish loves him, and carries him around EVERYWHERE!!
(I got it at BRU, but couldn't find it anywhere else…)
If Squish has taught me anything about the things he loves the most, it is that you don't need to spend a lot on toys, as long as they can be creative with him. Balls, Paper, Boxes, and Empty Bottles, are all other things he loves to play with!
1.We ask that you follow all three hosts. That way you can keep up to date on future Toddler Talks.
(top three spots)
2.Please grab the Toddler Talk Button and display it in your post or on your blog.
3.Stop in to other blogs that are linking up. Leave a meaningful comment if you visit, and follow if you would like.
4.This link up is for families that have toddlers. Raising a toddler can be fun, crazy, exciting, and exhausting. Sharing what works for you could give other families another way to do things.
Link up opens at 8pm PST
Have Fun! Thanks for joining in the Toddler Talk!
Next Weeks Topic: Toddler TV and Movies