This week since I am on Vacation, I have lined up many guest bloggers to "HEADLINE" at Family and Life in Las Vegas, and keep things going Our Way! Make sure you tune in each day for a new guest blog post. These are some of my favorite bloggers out there! Each of them have something different to say, but they all have being a mommy in common. Please leave them some comment love as you read and enjoy their posts. If you are interested in being a spotlighted Guest Blogger, please email me.
Now for a special first spotlighted Guest Blogger, Becca from Jumping Jax Designs!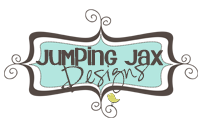 September marks the one year anniversary of one of my favorite companies, Jumping Jax Designs. Becca is the creative mind behind the images she produces. After her son Jax was born, Becca knew she wanted something that would allow her to stay at home with the newest love of her life. That was the beginning of Jumping Jax Designs. In the short year (or long year if you ask Becca) since her company started she has designed many beautiful invitations and announcements, and creative blog designs.
When I saw Becca's designs I knew I needed her to create Squish's birthday invitation. I had looked everywhere, but no one had what I wanted. I told her what I was looking for, and she worked with me until every detail was exactly as I imagined. It truely was like she was able to make sense of the jumbled ideas in my head, and bring them to life. I loved his invitations, but even more than that I liked emailing back and forth with Becca. Even though I have never met her, I would definitely consider her a friend.
I have since used JJD to design both of my web pages, and plan on using JJD for every chance I get. Becca's attention to detail is awesome, and her customer service is fantastic. She is a wonderful wife, mother, and designer.
Congratulations on one amazing year, and many many more to come!
Tell me about your company, and you inspiration to start it.
I have always loved fashion and had a knack for creative design, but since I went to college to be a teacher, I didn't really have an outlet for that. When I had my son last year, I just knew that daycare wasn't for our family. I wanted to stay home with him, but somehow still bring in money, doing something I loved. It was my mother-in-law who finally gave me the swift kick in the pants to get my own business going last August. I started by getting Photoshop and totally teaching myself how to use it. I wound up crying more nights than I can count because it's VERY difficult to learn without someone to teach you. I slowly figured out what I was doing, and created my first card for a friend's birthday party in September of last year. I was on a message board called TheBump.com where girls were ALWAYS needing birthday invitations & birth announcements, so when I would make one for someone, they would show it off, and link up my shop. I became the go-to person for design needs, and I have sort of branched out from there!
Can you share a couple of your favorite (besides mine of course – :P) projects you have done since starting JJD?
Oooh of course! 🙂 And yes, your blog is still one of my favorites, Emily! While I really really love doing blog designs, I guess you could say that cards are my "first love" and I think I enjoy doing them the most! I think that's because if I wasn't doing JJD, I might look into event planning. I love helping with birthday parties, showers, weddings, you name it! 🙂 Here are a few of my favorite cards!
Do you have any pet peeves?
My pet peeve about myself is my perfectionism. As my husband always says "Becca, you doubt yourself every time and the customer almost always loves it." Even when I absolutely love a design I have done, I still nitpick over silly things that nobody but me would ever notice. This is not (AT ALL) to say my work is perfect…as you see, I didn't go to design school so I am sure some of the "technicalities" aren't there, but I hate that I pick apart everything I do, even when it's great!
What do you think the secret to a good life is?
Doing what makes you happiest and following your passion. I know that our family might be more financially stable if I were teaching or sitting at a desk job somewhere, but that's not what makes me happy right now. That wouldn't be where I want to be. I am happiest raising my son and creating designs for others, adding a special "something extra" to the events in their lives, and doing it all from home. Sure, we're not always financially "comfortable", and we aren't as established as we would eventually like to be, but we are doing what we love, and that's what counts.
If your house was on fire and you could grab only 3 things before leaving, what would they be? (Assuming your family was already safe)
I have irrational fears about this! But my family is safe? Whew, that's what matters.
If I could grab 3 things they would be:
1.) My Bible. Self explanatory.
2.) My "memory drawer" up in my craft closet that houses all of my keepsakes ranging from my own baby book to Jax's itty bitty preemie diaper, tiny newborn hat and his first "drawing".
3.) My external hard drives. That sounds silly I guess but they hold ALL of my pictures of Jax and ALL of my JJD work and my design programs…I cringe to think what I would do without them!
What are you passionate about?
Customer satisfaction. I strive to make sure that every client I come into contact with is 100% in love with their product, and that the service they receive is timely and of the best quality I have to offer. I think this is the key to a successful business. When your customers are happy with you, they tell their friends about you, and return to you to do business in the future.
Please head over to Jumping Jax Designs Etsy Page and take a look around.
You can also head over to JJD's blog (make sure to leave some comment love Family and Life in Las Vegas Style) or Becca's Family Blog, The Paro Post.