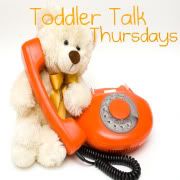 Welcome to the sixth week of

Toddler Talk Thursday!

Where Family and Life in Las Vegas, Crazy about my Baybah, and My Life as a Sippy Cup Mom talk all things Toddler!

Toddler Talk Thursday was created as a place for moms and dads of toddlers to come together over a weekly topic and share ideas, go-to toys, or products. It is a great way to meet other bloggers of toddlers. Each week the topic will be different; we invite you to link up, share your weekly Toddler Talk!!

Each week the hosts will travel around to each blog that links up, and pick an idea, story, or picture they think was a great example of that weeks topic. In order to qualify for this you need to blog about this week's topic, and follow the hosts. Comments letting us know you are participating are always great too. If we choose your blog, we will link back to your post the following week.

Our highlighted blogs this week are:

The Adventures of Ryan

Funny Little Peanut

Mom-a-logues

The Adventures of Ryan because he just looks so cute sitting on that Sit n Spin watching his Mickey Mouse Clubhouse! 😉

Funny Little Peanut because we love the pictures that Mel shared of Emma and her favorite characters!

Mom-a-logues because we love that her 2 year old told her "Mommy I heart Jonas."

This week's topic is: Music
Squishy bopping away to the beat in an AC/DC shirt

********

Dancing to Run DMC




Squish loves music. Since he was a little itty bitty Squishapillar he has been singing himself to sleep. He kind of just hums a little song until he passes out. As he has gotten older, it really does sound like singing mixed in with some jabbering. He varies his pitches. So cute! He also loves to dance. If you ask him to dance he will bop his head up and down, and do mini squats. He has also started to throw his hands around front to back sometimes. It is really a treat to watch him dance. He can be playing along, and then all of the sudden, some song will come on that he deems dance-able, and he just starts getting down!
As far as the types of music Squish seems to like, it is pretty varied. He loves to listen to kids singing, especially if he can see them too. He likes the nursery rhyme songs I sing to him, over and over. We have two songs that I can sing and it will usually help him to settle down when he is upset. He seems to really get down to the 80s music channel, which thrills his Auntie Kim to no end. And he also really likes the music with the Jimmy Dean Sausage commercial, where the planets are all orbiting around. Every time it comes on TV he stops playing and kind of sways all!!
For bedtime, we have gotten into the habit of listening to the classical channel. Although recently our cable provider just added this soothing classical ditty to the information channel, and he loves it! We call it "The Soothing Sounds of Cox Cable Song". It is really funny to see what he gets down to.
To keep things fresh we listen to a wide variety of music, and I love going to the library and renting different CDs to listen to for a while. It always keeps things new, and keeps this mama from going crazy listening to the same song over and over and over again…
About the only music we aren't really fond of in this house is the blaring music that repeats out of some of his toys! I swear even on the soft setting, that music is just jarring. Recently I duct taped the speakers so as to mute the noise just a bit. It seems to help quite a lot. But seriously, when they go off 3 hours after Squish has finished playing with them it just scares the crapola out of me!! I'm all for a fun musical toy, I just wish some of them had softer, sweeter music…
Next week's topic will be: Toddler Travel Tips
Link Up Suggestions:

We ask that you follow all three hosts. That way you can keep up to date on future Toddler Talks.
Please grab the Toddler Talk Button and display it in your post or on your blog.
Stop in to other blogs that are linking up. Leave a meaningful comment if you visit, and follow if you would like.
This link up is for families that have toddlers. Raising a toddler can be fun, crazy, exciting, and exhausting. Sharing what works for you could give other families another way to do things.
Have Fun!


Also Congrats to Shirley – you are the winner of our Wupzey Highchair food cover.
shirley said… 21 Voted on PF

I have sent an email, you have 48 hours to respond via email.