When I think of Fall, Pumpkin Bread immediately comes to mind. I actually usually always add Pumpkin to my banana bread recipes. Last year I bought a couple of small pumpkins to use as displays, and when Halloween was over, I turned them into baby food for Squish. (He approved when he finally got to try some a few months later.) That is what I love about pumpkin; you can freeze some and save it for your recipes through out the year. In fact you can use Pumpkin in many of your baking recipes, like brownies and cake in place of the oil.
Today we have a super yummy Pumpkin Bread Boo-tacular Recipe from Jacqui over at Cooking For Little Fingers.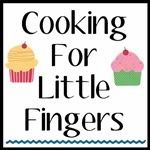 Pumpkin Bread
1 1/2 c. flour
1/2 tsp. salt
1 c. sugar
1 tsp. baking soda
1 c. pumpkin puree
1/2 c. vegetable oil
2 eggs, beaten
1/4 c. water
1/4 tsp. nutmeg
1 tsp. cinnamon
1/2 c. chopped nuts (optional)
Preheat your oven to 350. Sift together the flour, salt, sugar, & baking soda. In a separate bowl, combine the pumpkin, oil, eggs, water, & spices. Pour into the bowl w/ dry ingredients & mix just until all are combined – don't stir too much! Stir in the nuts, if you're using them (I like it better w/o the nuts). Pour into a well-buttered 9x5x3-in. loaf pan; bake 50-60 minutes until done in the middle. Remove from pan, cool on a rack.
Keep wrapped in the refrigerator.
Mmmmm… That makes me want some Pumpkin Bread right now!
So for today's extra entries – Email me your

favorite thing

s about Fall/Halloween (recipes, pictures, or general descriptions are all welcome) along with your blog address. (I will link it back to you when I post) –

5 extra entries into the giveaway of your choice

. Just leave this comment with your email address on the giveaway(s) you chose to use your extra entries on. (5 separate comments) (I will be verifying with the emails that are sent in.)
"I emailed my favorite things to Family and Life in Las Vegas"
And keep your eye's peeled – I will be handing out extra entries

EVERYDAY

. On Twitter, On The Blog. You won't want to miss your extra chance to win some of your favorite giveaways.
Don't forget to enter some of the 20 Giveaways that are going on until October 9th before you leave. See the Side Bar for links to each Giveaway!!