Today we have two wonderful Tutorials for you. Early we shared Sara's super easy and fun treat bag tutorial, and now we are fortunate to have Michell here from her super fun blog Girl In Air.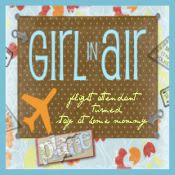 She is going to show us how to make some fun decoration blocks. These are super cute, easy, and very affordable!!
I love to change up my Home Decor with the Seasons!
BUT
I don't like to spend a ton of money….
These easy and inexpensive to make blocks are just my cup of tea!
Here's how to make and what you need:
Mod Podge and some paint.
Did you know that Home Depot has a scrap bin???
I got a piece of wood for 51 CENTS!!!!
AND the BEST part is they CUT it for you!!
51 cents is so worth not having to beg the hubby to cut me some wood in his spare time:)
I used a wonderful 12×12 scrap page template from Heritage Makers.
I love them because someone already designed them and all I have to do is order a page!
I could have also added a photo but that's for a later date….I'm making decor blocks for each season with a picture of our family
They are about $3.95 and cheaper the more you buy…..
Here some other wonderful templates:
I used a matching color and painted the edges of each block..
Then glue each square with Mod Podge on front and back of each block….let dry and…..
I LOVE my new Halloween Blocks!
Four Decor Blocks for less than $4!
~Please check my blog for many MORE great ideas.~

Seriously, how fun are those blocks!! I can't wait to try them myself!! If you go over and "treat" her blog, and leave a comment saying you're from Mommy's Lil Monster Bash you can have 4 extra entries into any giveaway.
Just comment "
I commented on Michell's blog and told her her blocks were spooktastic!
" on the giveaway of choice. (4 separate comments)
(Divide them up, use them all for one giveaway, it is your call!!)
Don't forget to enter some of the 20 Giveaways that are going on until October 9th (
that is tomorrow!!
) before you leave. See the SideBar for links to each Giveaway!!