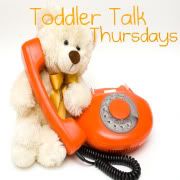 Welcome to the twelfth week of Toddler Talk Thursday! Where Family and Life in Las Vegas, Crazy about my Baybah, and My Life as a Sippy Cup Mom Talk all things Toddler!

Toddler Talk Thursday was created as a place for moms and dads of toddlers to come together over a weekly topic and share ideas, go-to toys, or products. It is a great way to meet other bloggers of toddlers. Each week the topic will be different; we invite you to link up, share your weekly Toddler Talk!!
Each week the hosts will travel around to each blog that links up, and pick an idea, story, or picture they think was a great example of that weeks topic. In order to qualify for this you need to blog about this week's topic, and follow the hosts. Comments
letting us know you are participating are always great too. If we choose your blog, we will link back to your post the following week.
Our highlighted blog this week is:

This week's topic is :

Clothes
I'm funny when it comes to clothes. I like clothes that either make my Squish look like a "little man", or a "baby".
"Little man" would be polo's, jeans, overalls, sweater vests, bowties, ect.
"Baby" would be onesies, footed jammies, and anything pastel and well, baby looking.


It really just depends on the mood I am in.
I tend to not like to put Squish in "character clothing". I know there will come a time when he will only want to where Elmo, Buzz, or whomever is popular at the moment. But for now – I like to shy away from it. The rare exceptions to this are made for 2 reasons. Sometimes it is just too cute to pass on, and my hubs is a huge fan of Tigger.
I think the best clothing for a little boy are the carter's rompers. It isn't a onesie, it isn't a two piece, it is just perfect. I seriously could let him wear them everyday – save the days where I dress him like a little man, or need him to feel like my baby again.
(And yes, I know. I am a bit crazy.)


What clothes do you love to put on your toddler?




1. We ask that you follow all three hosts.
That way you can keep up to date on future Toddler Talks.
2. Please grab the Toddler Talk Button and display it in your post or on your blog.
3. Stop in to other blogs that are linking up.
Leave a meaningful comment if you visit, and follow if you would like.
This link up is for families that have toddlers.
Raising a toddler can be fun, crazy, exciting, and exhausting.
Sharing what works for you could give other families another way to do things.

Next weeks topic will be: Family: What does your toddler love to do with Aunts, Uncles, Grandma and Grandpa?
Please – Before you Link up – This is NOT A BLOG HOP!! IT IS A MEME FOR PARENTS AND CAREGIVERS OF TODDLERS.
If you aren't going to post specific to this weeks topic, than don't link up.