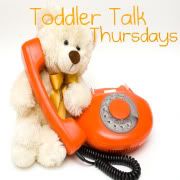 Toddler Talk Thursday was created as a place for moms and dads of toddlers to come together over a weekly topic and share ideas, go-to toys, or products. It is a great way to meet other bloggers of toddlers. Each week the topic will be different; we invite you to link up, share your weekly Toddler Talk!


Each week the hosts will travel around to each blog that links up, and pick an idea, story, or picture they think was a great example of that weeks topic. In order to qualify for this you need to blog about this week's topic, and follow the hosts. Comments letting us know you are participating are always great too. If we choose your blog, we will link back to your post the following week.


Our highlighted blog this week is:
Diapers and Die Cuts!
(Welcome to Toddler Talk Thursday!)
And an extra special congrats to
One + One =4
She and her family welcomed a beautiful baby boy into their family this week.
Enjoy Monkey Man and Give Lil Rocker and extra Squeeze from me!
This week's topic is :

Extended Family!
Tell us about your toddler's favorite extended family members!






Squishy has a lot of Extended Family who loves him very much. I was fortunate growing up to be so close to my cousins. Now they have children who are Squish's 2nd cousins, but labels don't mean very much in our family. Everyone is family.





In no particular Order…


My brother, Squish's Uncle Dave and Godparent.


Squishy's Grandpa Theron on his father's side.


My Sister in Law – Auntie Kim and Godparent.

Kim lives with us, and Squishy gets lots of love from her, and it is given right back!


The great Uncles

They are referred to as the Great UMs


Squishy's Great aunt, we call her the Great AL *My Godmother* and a cousin (2nd)


My father, Squishy's Grandpa Mark


My mother, Squishy's Grandmother


More Cousins (2nd)




Squishy really does love them!


Aunt Mindy and Uncle Dave – Godparents


Auntie Kim with Squish when he was a Squish.




Aunt Amanda when Squish was 23 days old.


Farmor Ingrid (Swedish for Father's Mother)
Not pictured: 3 Great Uncles on my Dad's side, and another Great Aunt, 5 more cousins, and 6 more 2nd cousins, my StepMom who Squish will call Gigi, and my step Sister Chey and her beautiful girls Mila and Brigette, and my step Brother Robbie. (we don't usually use the step, unless explaining it. Chey and Robbie are my family too.)
We also have two friends of the family, who live in LV part time. I consider them family as well, and Squish loves them!
I haven't meant very much of Rob's extended family. I did meet his Aunt Mia and Uncle Begnt who live in Sweden. He also has family in IN, KY, and Sweden.
The only person who lives here is Auntie Kim. Everyone else is spread out mainly between MN, FL, IN, KY, the East Coast, and Italy and Sweden.
I hope my son gets to grow up like I did. Where cousins, Aunts, Uncles, Grandparents, and friends all play an important part in the family circle. So much love to spread around, and so many wonderful memories to make.


Next weeks topic will be: What's in your diaper bag?
Link Up Suggestions:
1. We ask that you follow all three hosts. That way you can keep up to date on future Toddler Talks.
2. Please grab the Toddler Talk Button and display it in your post or on your blog.
3. Stop in to other blogs that are linking up.
Leave a meaningful comment if you visit, and follow if you would like.


This link up is for families that have toddlers.
Raising a toddler can be fun, crazy, exciting, and exhausting.
Sharing what works for you could give other families another way to do things.
Please – Before you Link up – This is NOT A BLOG HOP!! IT IS A MEME FOR PARENTS AND CAREGIVERS OF TODDLERS.
If you aren't going to post specific to this weeks topic, then don't link up.