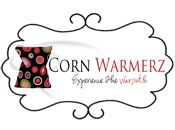 Bummed you didn't win the Corn Warmerz Giveaway? Well you are in luck. I am super happy to announce our fifth sponsor for Blogmania is none other than Corn Warmerz.
Corn Warmerz is an all natural, eco-friendly heat therapy. (It can also be placed in the freezer and used as a cooling pad.)
"Our love for these microwaveable corn bags came about when our oldest son was diagnosed with Juvenile Rheumatoid Arthritis at the tender age of three (crushing). That was 19 years ago, and today we still use them faithfully, each for our own specific needs." Rachelle, Owner and Creator of Corn Warmerz.
(Drawing done by Rachelle's Daughter, isn't it great!!)
Rachelle started the company after she saw the opportunity to provide families like hers with a fantastic product. There are so many wonderful uses for this product; here is just some of the ones Corn Warmerz put together:
*Arthritis Pain *Migraine Headaches *Menopausal Night Sweats *Post Cosmetic Surgery *Stress Relief *Sore Muscles *Neck & Back Pain *Menstrual Cramps *Labor Pain *Tooth Aches-TMJ *Sinus Pain Relief *Improve Circulation *Insomnia~Rest Easy *Cold Pack *Boo Boos *Bed Warmer *Foot Warmer *Pet Bed Warmer *Coaches Keep On Hand As A Cold Pack *Take Along To Sporting Events *Keep a Heating Pad In The RV Or Boat House
In addition to having a very large selection of 100% cotton patterns to choose from, Corn Warmerz also has a wonderful FAQ section on her site. Here is just a sample of some of the Q&A.
Heat and cold are the two most common types of, non-invasive, and non-addictive therapies. Heat and cold can be used alternatively and works by stimulating your body's own healing force.
Many arthritis doctors recommend both heat and cold treatments to help reduce inflammation and ease the pain and stiffness that comes with arthritis.
Corn has a larger surface area than rice or flax seed; therefore it retains the heat MUCH longer. I prefer the way our corn heat bags conform to the body with the added weight of the corn, allowing heat or cold to penetrate those hard to reach areas.
Corn Warmerz is generously giving away one of their fabulous Microwavable Heating Pad Sets in Mint Paisley.
Please stop by Corn Warmerz Blog, Twitter, and E-Commerce page.