Hey all!  Welcome to Fitness Friday! 
Thanks for stopping by, I hope you will stay and look around for a while. 
This week I am off vacationing with family in Sunny Minnesota (BRRR!), but don't you worry!  I still have an awesome post for you today! 
This post comes from Ashleigh over at Waking Up in Vegas.  (Another local Vegas blogger!) 
She is going to share an unusual place to find a fitness community!  Clearly great minds think alike – if you remember I touched on using Pinterest in my 3 workouts to do at home or while traveling post!
Thanks Ashleigh for holding down Fitness Friday while I take a much needed break!
Hey! I'm Ashleigh from Waking Up in Vegas.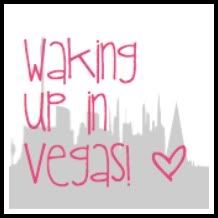 I'm so glad to be guest posting over here for Family and Life in Las Vegas's Fitness Friday, it is such an honor!
Have you ever heard of Pinterest?
That's probably a silly question! of course you have!
It's a website where you pin crafts, outfits, and lovely home pictures that you wish you could have; well have you ever used it for fitness?
no?
Well I have! It is such a great tool, so many people pin their work outs or simple yoga stretches; it is such a great resource!
I am here to let you in on a few of my favorite "pins" from the site!
just for some inspiration =]
The great thing about Pinterest is the majority of the time when you click on the picture it leads you to the website it is from, which could help you find even more work outs to do! I have done quite a few of the "pinterest workouts" and I absolutely love them!
What do you "pin" on pinterest?
do you ever "pin" fitness inspiration or workouts?
Thank you for reading! I hope you will pop on over to my blog and say hi! 😉
About Ashleigh:
twenty something living in the city of sin; teaching munchkins; and happy as can be with where i am at in my life, i have my mister for life, and my four legged baby boy bogey; fitness and eating healthy are a big part of my life and i strive to have a "healthy lifestyle".